About: Authors and Illustrator
Dr Janice Woolley MD and Jennifer Pugmire Are Coauthors Of:
the book Food for Tots
the booklet Excerpts from Food for Tots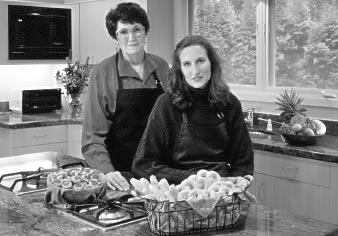 photo by Harold Swerland
Dr. Janice Woolley and Jennifer Pugmire are a mother-daughter team who enjoy cooking and sharing their healthy recipes with parents and caregivers.
Dr. Janice Woolley, MD, FAAP is a board-certified pediatrician with more than thirty years experience providing medical care to children. Over the years she has helped parents with their concerns about providing healthy food for their preschool children. As a result of this experience, she recognized the need for an up-to-date cookbook for parents. Dr. Woolley is a graduate of Brigham Young University and Indiana University School of Medicine and received her training in pediatrics at the University of Washington. She was chosen by a survey of her peers as one of Seattle's Best Doctors for two consecutive years. She has four children and six grandchildren.
Jennifer Pugmire is a stay-at-home mother of five. She experiences the daily challenges of feeding young children. In her church, she served as president of a children's organization and president of a women's organization. She taught several years in a coop preschool. She enjoys opening her home to other children. Interacting with other moms through these activities, she has discovered much that helps in raising her own children. She enjoyed organizing and sharing her practical experience as a mother while collaborating with her own mother on this book. She is a graduate of Brigham Young University with a bachelor of science in statistics.
Illustrator
Marilyn Taggart is a graphic artist with more than twenty years of freelance art experience since studying art at Brigham Young University. She does drawing, painting, and sculpture and has worked in several media including acrylics, water color, and sculpture. She was coowner of a successful company, Off-The-Wall, specializing in wall murals. She is the illustrator for Excerpts from Food for Tots. Marilyn has five children and thirteen grandchildren. She is an active volunteer in church and community activities.